So I got my first full-time paycheck for the new job last week, and I have been online shopping like a freak....some in person shopping too.
Also been drooling over the handspuns at
Ozark Handspun
, but I don't really know what to make out of the stuff. I did buy some handspun the other day at
Knitting Emporium
, and I am making the "Condom Critter" from
Naughty Needles
with it. I've been having some issues reading the patterns in that book. I feel like I'm either being really dense or the patterns are kind of vague. Anyway, it's a pretty blue shade with purples and greens that my camera is sure to butcher. It is the Gaugin shade of
Colinette Point Five
yarn. Don't know if that gigantic link will work or not.
http://www.colinette.com/
That'n will though.
In the ATL that's pronounced pernt5, y'all.
As in, PowerPernt Presentation.
Yeah, anyway - here's the butchered picture of my new yarn: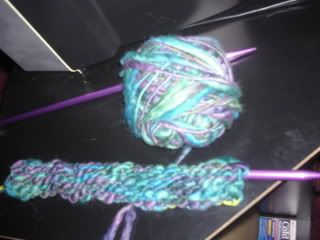 And that picture reminds me that I need to dust.
I also completely finished and shipped off the baby shrug. Here's the finished project: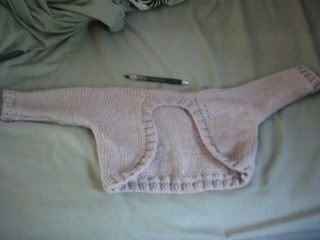 That's a pen above it. Yes, I know - it's not just the camera's fault - I take sucky pictures, too.
So, I could bitch about how lame work was today and how the management meeting I attended was kind of depressing, but I don't want to relive it, and I'm tired. I have the day off tomorrow, but I have to get up at 6am to take my niece to school and then fret and worry all day about my nephew who is having surgery and then pick up my niece at 2:30 and take my older nephew to his 8th grade open house at 4pm. Busy day.
I hope to get some knitting in, though, to calm myself down...and maybe an episode of Days of Our Lives too. I haven't watched it in over a month, because I've been busy. I caught like 5 minutes of it yesterday when I went by Bill's to feed his cats and all I saw was Kate & Stefano making out.
W T F?!?!?!
Anyways...I leave you with Spooky looking surly on top of a drop stitch scarf that I finished last week. I should take a picture of it. I like the way it turned out, but it's itchy as an STD.
toodles.