So, I finished up 3 washcloths now - 2 ballband ones and 1 Mason-Dixon one. I will take some pictures at some point and post them. They are all done with Sugar N' Cream cotton. I also bought some chenille to make a couple more of the Mason-Dixon washcloths. I think those will look neat - one is a variegated blue/green and the other is variegated pink/green. Speaking of pink/green, I am finally to the point of putting on the handles and button of the purse I made in December or January(I know - I suck).
I finished a wallet and felted it - just need to put in the zipper and sew on the decorative pieces. It's gonna be badass. I made it from
this kit
in the red version. I think I made it in like 2 days. It's the first kit I've ever bought. It just looks so neat, and I got it on sale 50% off.
I also started a tie for my dad. I originally saw it on the
Knitpicks
site as a Father's Day suggestion, but I'm not one for time limits on my knitting, so it will end up being a whenever I get finished you'll get it type of project. I decided to go ahead and use the silk/wool blend they suggested on Knitpicks, and I chose to use burgundy, black, and a smoky blue for the colors. It is being knit on size 1 needles which are the smallest ones I have used as of yet.
Bill finished the socks he was making for me. They are worsted weight camouflage yarn made with a pattern from a magazine that I can't remember the name of right now. They are snazzy wazz and are gonna keep my toes nice and toasty this winter. So, since I haven't taken pictures of the projects I'm working on, here some pictures of my new socks and of Spooky and Frannie being cute.
Spooky with the yarn and pattern for my Dad's tie: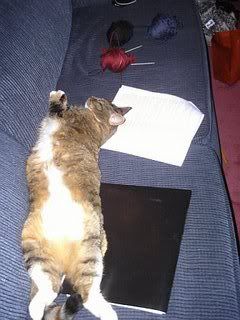 Spooky snoozing on Bill's dishcloth yarn: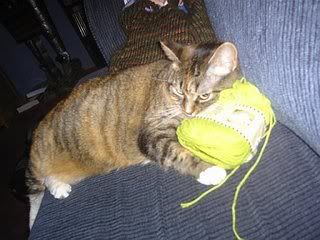 Spooks in the shadow of Bill knitting on his dishcloth: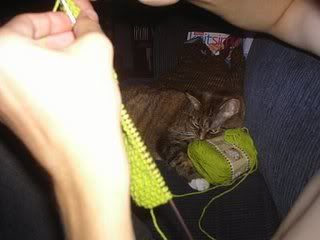 Bill's socks knitted for me modeled on my feet =)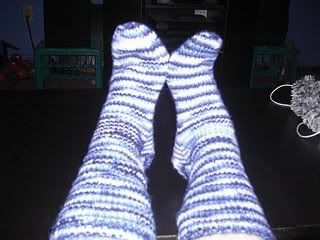 Frannie lounging on top of Bill's knitting bag: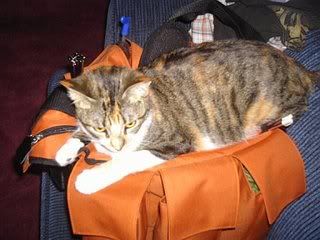 Bill showing off his first pair of finished socks! (Sorry I cut off part of his head - that's one photo flub that's not the camera's fault):