Nope. It doesn't.
But mine does! My nephew had his wish granted by the
Make-A-Wish Foundation
yesterday, and Best Buy doo'd it up right.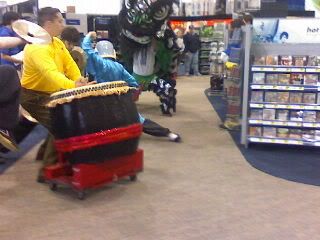 All of my pictures suck, because I took them with my phone, but the Make-A-Wish volunteers who were with us were taking pics like crazy, so hopefully they got some good ones. I got to ride in one of those Hummer limos that I rag on when I see them. hehe
And I have been finishing so many knitting projects that I find myself without anything to work on!! That sucks! I am totally done with Christmas stuff unless I pick up a new project - with 3 weeks still left, it's completely doable. But, wouldn't it be crazy to make something for myself right now when knitters around the world are frantically knitting on gifts?
Yep.
OK - my back hurts, and I'm bored now. More later.
Powered by ScribeFire.